Quality Residential Glass Repair and Window Replacement in King and Snohomish County
*** Weathervane Window Repair Experts ***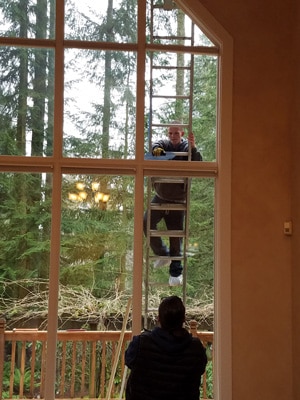 Locally-owned Glass Experts has provided affordable, top-notch residential glass repair and window replacement in south Snohomish County and the Eastside for more than 25 years. Your one-stop residential glass shop, we're known as the Fastest Glass in the Northwest. Our low overhead makes us more affordable than most glass and window companies in the Puget Sound area, so you can count on saving money on all glass problems from window replacement to glass tabletop repair.
Expert Residential Glass Repair and Window Replacement
Have a broken window or need to update your home with energy efficient windows? Maybe you need new patio doors installed or a bathroom mirror replaced. Whatever you need when it comes to residential glass, Glass Experts is here to help. We've provided quality residential glass services in the Puget Sound area for nearly three decades. Our highly-trained specialists work tirelessly to provide customers with the best products and service possible.
Weathervane Wood Window Repair
Weathervane Window Company went out of business in 2001, taking any warranty on your Weathervane wood windows with it. If you're experiencing rotting window frames or foggy haze inside the double panes, we have good news for you. Restoring your Weathervane wood windows to better than new condition is affordable! A Northwest expert in the repair of double-pane Weathervane windows, our experienced technicians and our supply of OEM or replica hardware will add many years of life to your Weathervane windows without breaking the bank! Clean, quick and affordable, we'll restore your Weathervane windows to better-than-original energy efficiency for a fraction of the cost of wood window replacement! Call today!
Do You Need Window Replacement?
Updating older windows in your home can be extremely beneficial from both a comfort and financial standpoint. Updating to new energy efficient windows provides:
Financial Savings: Lower your monthly energy costs.
Increased Value: Add to the value of your home while increasing its curb appeal.
Improved Comfort: Eliminate cold drafts, provide better sound-proofing, and increase the amount of natural light.
Fastest Glass in the Northwest!
Glass Experts is committed to providing prompt and courteous service for your residential, commercial and auto glass needs at the lowest prices available. And our free mobile service will bring our technicians to you in south Snohomish County and the Eastside.
Residential Glass Repair and Window Replacement Specialists
Serving the communities of Bellevue, Bothell, Everett, Issaquah, Kirkland, Lake Stevens, Mercer Island, Mill Creek, Newcastle, Redmond, Sammamish, Snohomish Woodinville, Mukilteo, Lynnwood, Edmonds, Esperance, Mountlake Terrace, Shoreline, Lake Forest Park, & Kenmore